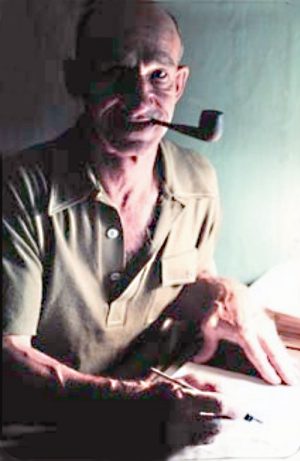 George Ludway was a cartoonist and watercolor artist from Grand River, Ohio. After serving his country in the US Air Force pilot during WW2, he returned home to Grand River to the home he grew up in with his mother, sister and three brothers to practice and refine his talent as a full-time art cartoonist.
Throughout his life, he made a meager living selling his cartoons to publications like the New Yorker, Field & Stream Magazine and other publications.
At seventy-five years old, he decided to teach himself water color painting. His nick-name was "Shanty" because he loved making paintings of shanties around Lake Erie. As a self-taught painter, he created works until he was eighty-five. If you have ever been to the Lake Erie area east of Cleveland, you will relate to the scenes in his paintings.
George Ludway Opening
November 1, 2023, 6-10pm
La Petite Galerie at Rapscallion Pub
3 Arnold Road
Sturbridge, MA 01518
Show runs from November 1, 2023 through January 30, 2024.